Vacation Bible School
June 22-26, 2020
To Kingdoms and Beyond!
Pick up a box filled with engaging materials.  Then join us on Zoom for a live kick-off each morning at 10:00 am.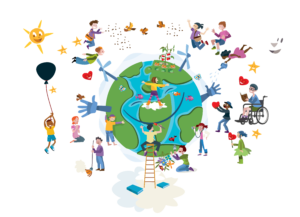 We will present skits, songs and interactive games to entertain the kids and learn the Lord's Prayer.
Afterward, play with the supplies in the box related to the daily themes: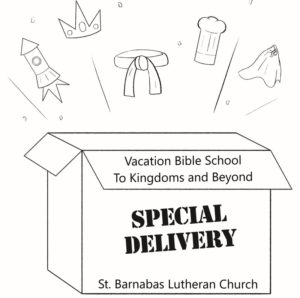 Monday = Blast Off!
Tuesday = Kingdoms
Wednesday = Ninja Warriors
Thursday = Creative Chefs
Friday = Super Heroes
$10 per child; $25 maximum per family
Designed for preschool through 5th grade.  Boxed materials will vary per age group.  
Register today: CLICK HERE
Program based on ELCA World Hunger – On Earth as in Heaven.
For more information, email: youth@stbarnabas-cary.org.  All are welcome!
→→→→→→→→→→→→→→→→→→→→→→→→→→→
Next school year, we will return to our ongoing Christian Education programs outlined below:
A flexible Sunday School format is offered for students in preschool through 8th grade.  Each child can choose to attend one, two or three of the following options on Sunday mornings:
9:15-10:00  Pre-Sunday School (games, volunteering, crafts)
10:00-10:30  Sunday School Lesson (learning through videos, stories & songs)
10:30-11:00  Sunday School Activity (lesson-based activities)
At 11:00, students can join their parents at worship service (in time for the Children's Message), go to the Nursery, or head home with parent.
High School students join together in their own Youth Room for faith discussions from 9:15-10:15 am each Sunday.  
In addition, students occasionally participate in leading part of a worship service, assisting as greeters or singing to the congregation.
New participants are welcome anytime during the school year.  Complete the online Registration Form or contact the church office for more information.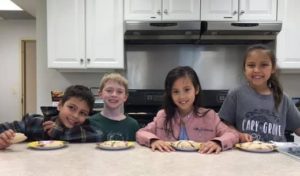 First Communion is celebrated at the beginning of May each year.  In preparation, children in second grade (or older) along with parents attend class and bake bread to learn more about this special tradition.  If you would like more information, please call the church office or email: youth@stbarnabas-cary.org 
Confirmation is a two year program for 7th & 8th graders, including a weekend retreat and a week long (optional) summer confirmation camp.  The class gathers weekly during the school year, on Wednesdays from 7:00-8:30 PM.  Small and large group activities and multimedia are used as teaching tools.  Students participate in service projects within the congregation and in the community. Please complete our Confirmation Registration Form to enroll in the program.