Christian Education is one of our largest and most important ministries.
A flexible Sunday School format is offered for students in preschool through 8th grade.  Each child can choose to attend one, two or three of the following options on Sunday mornings:
9:15-10:00  Pre-Sunday School (games, volunteering, crafts)
10:00-10:30  Sunday School Lesson (learning through videos, stories & songs)
10:30-11:00  Sunday School Activity (lesson-based activities)
At 11:00, students can join their parents at worship service (in time for the Children's Message), go to the Nursery, or head home with parent.
High School students join together in their own Youth Room for faith discussions from 9:15-10:15 am each Sunday.  
In addition, students occasionally participate in leading part of a worship service, assisting as greeters or singing to the congregation.
New participants are welcome anytime during the school year.  Complete the online Registration Form or contact the church office for more information.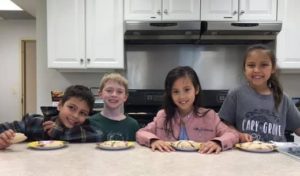 First Communion is celebrated at the beginning of May each year.  In preparation, children in second grade (or older) along with parents attend class and bake bread to learn more about this special tradition.  If you would like more information, please call the church office or email: youth@stbarnabas-cary.org 
Confirmation is a two year program for 7th & 8th graders, including a weekend retreat and a week long (optional) summer confirmation camp.  The class gathers weekly during the school year, on Wednesdays from 7:00-8:30 PM.  Small and large group activities and multimedia are used as teaching tools.  Students participate in service projects within the congregation and in the community. Please complete our Confirmation Registration Form to enroll in the program.
Vacation Bible School is offered each summer.  Our 2019 VBS program based on the ELCA World Hunger curriculum Who is My Neighbor? was a great success.  We learned about the Good Samaritan and about neighbors around the world.  The 2020 VBS program is tentatively scheduled for mid-June.  For more information, call the church office or email: youth@stbarnabas-cary.org.  All are welcome!