St. Barnabas Lutheran Church is committed to providing engaging faith-based youth programs.  
Join us for the Fall 2020 Sunday School program.  We are calling it "Saturday Sunday School" because an interactive Zoom lesson will be presented each Saturday at 9:30 am from September 12 until November 21, 2020.  A variety of stories, songs, games, crafts and science experiments will be used to teach the lessons which will coincide with the church's weekly Bible readings.  All ages can attend.  Registration is free, but required to participate.  Click HERE to register.   
St. Barnabas will also offer the P.R.A.Y. Religious Emblem program beginning in September 2020 for kids in 1st-8th grades.  Activities and service projects are tailored for specific age groups. Kids will learn about God's importance in family and community. The Youth Director will guide you and your child through the program with fun monthly activities. Lessons coordinate with numerous Christian faiths. Members of other churches are welcome to participate. Upon completion, kids earn badges/awards that are recognized by Girl Scouts of America, Boy Scouts of America, and American Heritage Girls. Click HERE to register. For more information, please contact Denise Ulaszek at youth@stbarnabas-cary.org or visit https://www.praypub.org/pray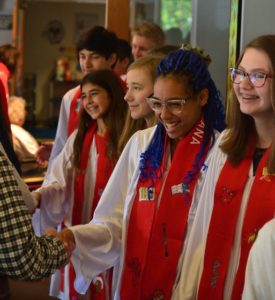 Confirmation is a two year program for 7th & 8th graders.  The class gathers weekly during the school year, on Wednesdays from 7:00-8:00 PM.  Small and large group activities and multimedia are used as teaching tools.  Students participate in service projects within the congregation and in the community. Please complete our Confirmation Registration Form to enroll in the program.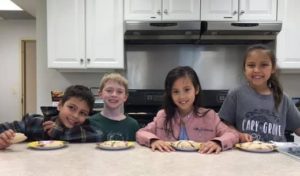 First Communion is celebrated at the beginning of May each year.  In preparation, children in second grade (or older) along with parents attend class and bake bread to learn more about this special tradition.  If you would like more information, please call the church office or email: youth@stbarnabas-cary.org 
Vacation Bible School is offered each summer and this year was no different!  Our first-ever virtual VBS included a morning Zoom presentation of skits, songs, prayers and activities.  Then participants opened a packet of daily materials to complete a craft and activity based on the daily-theme.  VBS 2020 – To Kingdoms and Beyond was a blast!  
For more information on any of our youth programs, email: youth@stbarnabas-cary.org. 
All are welcome!