The Witness Team looks for effective ways to share the good news of God's love through community outreach. This includes inviting people to St. Barnabas, and welcoming those who come.
"Welcome to the Community" letters are sent to new residents. Fun and informative gift bags are provided to first time church visitors.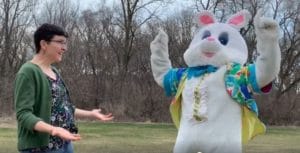 The Witness Team sponsors events to build relationships and address specific needs in the community.  An Easter event is held annually.  Pastor Sarah reads a story, the Easter Bunny arrives for photos and the kids hunt for candy-filled eggs.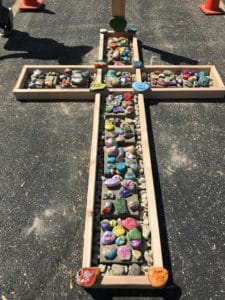 A Hopestone Cross filled with painted rocks was placed in the church parking lot in June 2020.  Adorned with words of encouragement, the rocks were available for people to select some and take them home. We also included instructions for people to create their own hopestones and add them to the cross.