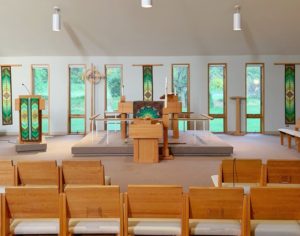 Worship at St. Barnabas is intended for people of all ages and preferences to worship God. We use a liturgical style that includes aspects of worship that go back to the earliest church: a focus on God's Word, celebrating Holy Communion, and sending the congregation in peace and service. The worship service also includes hymns, prayers and sermons to reflect the world as well as local concerns.
Our hope is that everyone will find something in the service that will be particularly meaningful to their life. As one of our young people commented one Sunday, the final blessing meant the most to him because he really wanted and needed to feel blessed that day!
The liturgy, music, banners, colors and sometimes the physical arrangement of the Sanctuary vary by the season of the church year. We currently use the narrative lectionary (readings) to lift up the main Bible themes.
All who commune in their home congregation are invited to commune at St. Barnabas as we celebrate this sacrament and the presence of Jesus to renew and forgive.
Worship Bulletins from our recent services are readily available to view online, or for downloading and printing.